John Doe, a very busy professional, is searching for a rental property online. He's narrowed down his search and found a beautiful home that would work perfectly for his family. He needs to make a decision quickly, so he decides to apply.
Property Manager A requires John to pick up his application from their office and fill it out by hand. John begins to complete it in the office, using a clipboard and his crossed leg for a table. He can't remember how long he was at his last address, and has to call his wife. Then he can't remember her social security number and has to call her again. Frustrated, he takes the application home to complete, only to lose it, forcing him to start the process all over again. Property Manager A finally receives the application by fax three days later, but they're pretty sure some of the pertinent information is covered by a coffee stain…or is that hot sauce? Then the office staff plays a mean game of paper-rock-scissors to see who has to call John to tell him the property's already been rented.
There's got to be an easier way.
Property Manager B, using HERO PM Online Applications, offers John the convenience of completing his application online – right from the listing page on Property Manager B's website, where John was viewing his dream home. He completes the form at home, at midnight, where he has access to all the information he'll need, and then submits it electronically. He even pays his application fees online as well. First thing in the morning, Property Manager B's Lease Contact sees an email notification letting him know that John submitted an application. Property Manager B clicks one button to have the application screened by his chosen screening company, and calls John to let him know if he's been approved for the rental. Now, we know that the online application process may or may not be a decision maker for a prospective tenant. However, the more value-added, web-based services you can offer, the better. You'll stand out from your competition by using technology as a tool. Start off your relationship with new tenants by showing them you're trying to make the process as easy as possible. And, it makes your job easier too.
How do online applications benefit your tenants?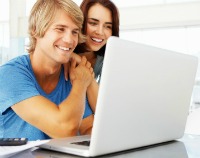 Online applications are easy to complete.
Tenants can submit online applications any time of the day or night.
The system saves their progress, so tenants can complete the application at a later time if needed.
The system confirms for the tenant that the application was submitted.
Help Tags allow tenants to understand exactly what information is needed for each field.
Tenants can submit their application fees online as well.
How do they benefit you?
The application itself can be customized for your company and your local regulations.
The application is always legible and all of the required fields are completed
The HERO PM system provides security and fair housing compliance built right in.
You can add Help Tags to various fields to minimize questions from the tenants.
As soon as a new application is submitted, your Lease Contact will receive an email notification.
You can view the application right in your HERO PM Control Panel.
The submitted application can be instantly screened in real time with our Integrated Screening Provider.
HERO PM Online Applications are already included in our Platinum ZL package. If you're not sure what package you have, or if you'd like to learn more about Online Applications or accepting Online Payments, please email