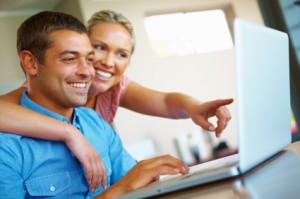 One of a property manager's most time intensive activities is showing properties. One of the easiest ways to reduce vacancy time and ensure that your time is well spent is to include a video walkthrough of your listing. Think of a video walkthrough as an online walkthrough of the property in which you show everything that you would in a physical showing. It provides prospective tenants "maximum exposure", and gives them a more intimate view and sense of the property that photos only allude to. According to a survey by the National Association of Realtors, 89% of home buyers find virtual tours to be "very or somewhat useful" when searching for a home on the Internet (2010 NAR Profile of Home Buyers & Sellers). We have heard from Property Managers across the country who agree this is equally important for prospective renters as they search for a home.
Since most people conduct their rental search online, marketing your listing with a video walkthrough provides many benefits. Consider the time that could be saved if you reduced the number of trips back and forth to show your properties…not to mention the gas money spent! Many of our members who effectively utilize video walkthroughs report renting some properties without any physical showings. And, they are especially beneficial for prospective tenants living out of town.
Providing a video walkthrough of a listing also helps "weed out" prospects who may not be seriously interested in the property. In fact, there's a significant ratio of video walkthrough tours to leases…If a prospective tenant first views the video walkthrough, and then takes a physical tour, they have a much higher likelihood of leasing that property. The video walkthrough also increases your level of service for both your owners and prospective tenants. And with your HERO PM Listings system, video walkthroughs are archived forever, ensuring that you don't need to re-create the tour the next time the property is vacant.

Tips for creating a video walkthrough:
Many HERO PM members that we've spoken with recognize the value of a video walkthrough. But, creating the video walkthrough yourself can be intimidating, and contracting the videos to a third party company can be costly. In reality, there's no reason you can't make these videos yourself. Here are a few tips we recommend when creating your video walkthrough:
Be sure the property is "camera ready" with proper lighting – this may require you to pull some shades and lift others. Experiment with different options until you find the combination that works best for the room.
Remember that the video will be available to the general public. If the property is not vacant, be sure that any of the current tenant's personally identifying items are put away.
Start with the home's greatest assets – consider emphasizing a great room, or an upgraded kitchen.
Keep your videos under 10 minutes long where possible. Longer videos are less likely to get watched, and won't be able to be published to certain providers (video should be under 2GB in size).
Include a street view from the front of the home, and a shot of the back yard as well.
Sell yourself as well as the property. As you're walking through the features of the home, use the opportunity to explain the benefits of your services to your prospective tenants.
If it's hard to record by yourself, bring along a co-worker. Imagine they're the tenant and give them a walkthrough as you normally would.
If the thought of flying solo with video walkthroughs still has your stomach in knots, then check out one of our vendor partners, Virtually Incredible (virtuallyincredible.com), which offers video coaching for property managers.
Add the video walkthrough to your listing:
After you've created and saved your video walkthrough, follow these steps to add it to your listing:
In your Control Panel, access the listing master view and click the Edit Video button
Click Choose File to locate the video
Select Marketing video type
Check the 

video syndication

 box to post your video on YouTube (Verify your YouTube username and password are added in Configuration > System Preferences)
The video title, video description and tags/keywords are auto-filled based on the content in the Tag Line and Remarks fields in your listing, however they can be added to or edited from this screen.
Select the Click to Process this Video to process and upload it to the listing
Once a video is uploaded, it may take a while for it to process and be available to play. If it's syndicated to YouTube, there are two waiting periods; the wait for the uploaded video to process, then the wait for YouTube to finish doing their thing. Depending on the video size and format, this can take up to 2 hours.