Navigating technology in a rapidly changing world can be challenging and overwhelming. Our goal at HERO PM is to help bring you valuable information and tools to help you run your business more efficiently, and stay relevant. As you know having a functional, user-friendly, and up-to-date website is a crucial aspect of running a property management business or any business for that matter. It's been a long time coming but we can finally say that HTML5 is the official new language of the Internet.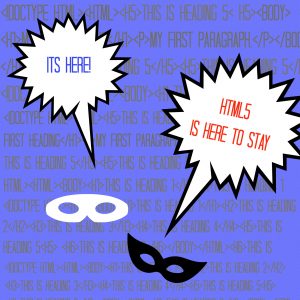 Apple and Google both pushed for HTML5 to become the new standard. We can surmise that both of these companies will be pushing for full adoption of the standard, by all websites. In doing so, we expect to see them rewarding HTML5 sites and penalizing older sites, as they move forward in their development of Google Search, Google Chrome, Safari, and iOS (iPhone/iPad). Although HTML4 is still in use you will soon find that your old HTML4 website is not working properly, not integrating well, or not performing well on search engines and in modern browsers. We cannot stress the importance enough to make the switch to an HTML5 integrated site.
All functionality aside having a dated website sends a message to clients and tenants that you are behind the times. A fresh, modern, professional look will give your business a competitive edge and outwardly show that you are the best company to work with.
HERO PM prides ourselves on providing the best solutions for property managers because we develop and design them specifically for you. Our newly reformulated design team produces world-class designs, highly targeted to achieve your business objectives. We are confident Websites v5 are the right answer for your website upgrade needs. Our HERO Websites v5 were created specifically for HTML5 and built from the ground up with your property management business in mind.
How your website ranks on major search engines can make or break your business efficiency and growth. HERO Websites v5 is the only solution with real-time SEO analysis for property management, analyzing your site in comparison to what owners and tenants are currently searching. We help you stay ahead of your competition with the most advanced tools and reports. Our goal is for your website upgrade to be a seamless transition, HERO Websites v5 integrates with all other HERO services, and connects with all other property management solutions, including Appfolio, PropertyWare, Buildium, Rent Manager, and more.
We are proud to say HERO PM has designed more property management websites than any other company, and this allows us to provide you the best product for the lowest price possible. HERO Websites designs are sold at-cost, and are a fraction of the price when compared to our competitors.
Be sure to order your v5 Website today, in January we will be increasing the price of our websites after 8 years! All orders placed in 2014 will be at our current price, visit our website for more details and examples!